Kathleen Shanks Capital Arts
Creative director and proprietor, KATHLEEN SHANKS, is highly regarded as a composer, writer, and music director. She has specialised in opera and musicals as a children's music director, and is in much demand in the UK and abroad.
CAPITAL ARTS is a London based professional performing arts organisation specialising in opera and choral music, Opera Capital Arts, London Cantamusica, and the internationally famous Capital Arts Children's Choir.
THE CAPITAL ARTS CHILDREN'S CHOIR is a world class children's choir with an international reputation. The choir's extended biography of recitals, concerts, operas, musicals, radio and TV performances, films and international concert tours, makes it one of the busiest and most successful children's choirs in the UK with an unequalled biography of professional performances. The choir's ease with all genres of music makes Capital Arts a natural choice for musicians and promoters.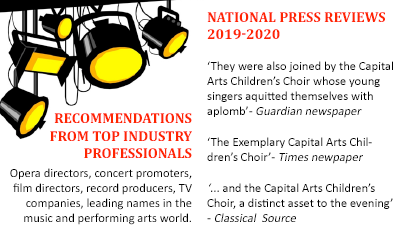 Testimonials
"These children should be seen
as well as heard"
Charles Spencer - Daily Telegraph
"…and the Children's Choir
makes you cry with happiness"
Paul Taylor - Independent
"I would like to thank you personally for the contribution your choir made to the success of the show" Andrew Lloyd Webber
"A pleasure to work with your
wonderful choir'"
Raymond Gubbay
"Excellent work'"
Justin Kurzel - director Assassin's Creed Twentieth Century Fox