On Tour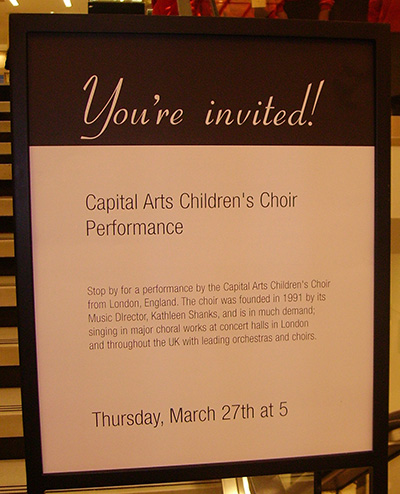 Recital at Bloomingdales Store, New York
The Capital Arts Children's Choir has performed in France, Monaco, Germany, Italy, USA and Canada. The choir has a regular invitation to perform in New York, where the choir is well established. The Capital Arts children have performed before royalty and state leaders in this country and abroad. Whilst on tour, the choir has made television appearances on City TV Toronto and the 'Good Morning America' breakfast show in New York, as well as on numerous radio shows. All Capital Arts tours are bespoke and are as a result of personal invitations to perform. Tours take place every two years.
Recent Tours
Our New York tours have been sponsored by New York commerce, Chanel and Bond No9.
Our invitation to perform at Monaco Cathedral, by kind permission of HSH Prince Albert of Monaco, was arranged by our good friend Christine Narmino, wife of His Excellency Philippe Narmino.
The recital to perform at the Bastille celebrations in Franconville was sponsored by Hertsmere Borough Council.
In 2018 the Capital Arts Children's Choir was invited to China to perform on Hunan Television, Beijing.
'Devils' Ice Hockey match in New Jersey
'Good Morning America' ABC breakfast television show
'Good Morning America' with presenter, Chris Cuomo, New York
A ride in Central Park, New York
Bastille celebrations Franconville
Carols at Santa's grotto Macys department store
Characters from Santa's grotto, Macys department store
Christmas at Macys New York
Christmas carols at Saks department store New York
Christmas In New York
Christmas recital at Saks department store
Christmas recital at United Nations Building, New York
Disneyland Paris
Enjoying the Monaco sunshine
Freedom Tower New York
Fun time, Disneyland Paris
Impromptu recital at the Rockerfeller Center New York
NBC Studios New York last day of the tour!
Photo time at the Leaning Tower of Pisa
Publicity photo for Monaco
Recital at Cazeneuve Castle Provence
Recital at La Madeleine Paris
Recital at Macys Store New York
Recital at the United Nations Building New York
Recital rehearsal at Monaco Cathedral
Singing at Bloomingdales store New York
Singing at Mass in Monte Carlo
Singing at Santa's grotto Macys department store
Swimming In The Mediterranean
The boys in Central Park New York
Tour support team on the River Seine, Paris
Sightseeing In Paris
East River Manhattan boat trip