Child Protection & Equal Opportunities
The Capital Arts Children's Choir is dedicated to developing the potential of children in an environment of safety and security. The Choir acknowledges that it has a responsibility for the safety of children and young people under its temporary care.
The Choir ensures that health and safety standards are met in the buildings used by the choir. The care and possible risks to children and young people are considered in relation to the range of activities that take place. These include the recruitment of staff and all the operations of the choir including arrangements and provisions for auditions, rehearsals, performances, travel and tours. All staff, workers and volunteers have enhanced DBS clearance.
The Capital Arts Children's Choir works closely with local councils for its professional work in the UK and the Westminster Magistrates Court for its performances abroad. Children are licenced accordingly. The Capital Arts Children's Choir has adopted an Equal Opportunities Policy which states that no child subscribing to CACC will be discriminated against on the basis of their sex, sexual orientation, race, colour, ethnic origin, nationality, disability or religious belief. Capital Arts is committed to providing a learning, working and social environment in which the rights and dignity of all its members are respected and which is free from discrimination, prejudice, intimidation and all forms of harassment or bullying.
Our Chaperones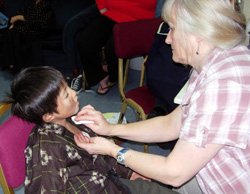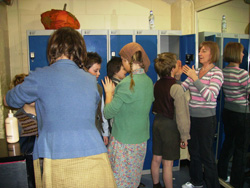 Make-Up time with the chaperones
We have an excellent bunch of chaperones, who are trained, fully licenced, caring and fun. They are well known to the children and to their parents.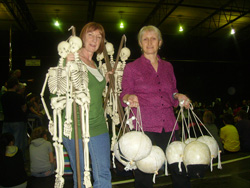 From the cradle to the grave our chaperones
really care!