Doomwatch Castle Musical
'A useful addition to the youth theatre repertoire' 
The Stage Newspaper
A virtual reality musical set in a computer, the Doomwatch Castle computer
It's Emily's birthday and she has been given the new must-have toy, the Doomwatch Castle Virtual Reality Game. With the Doomwatch helmets on, the magic can begin. Prepare to be transported with Emily and her brother to the virtual reality world of Doomwatch Castle where only the brave dare to go.

With the help of Mr Mouse, Emily and her brother George must search Doomwatch Castle for three skeletons who came to Doomwatch for a weekend break and have now disappeared.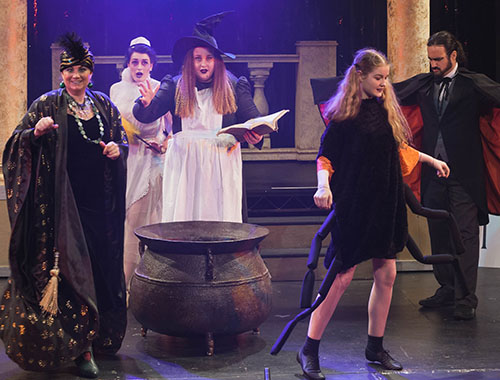 They learn that there is trouble at Doomwatch Castle. Power mad Mr Keyboard, who is good at spelling, has changed the computer's curser  from a helpful little line to his evil helper. Mr Mouse is powerless. The children are on their own until C, the hardest disc in town, and the crazy Doomwatch characters come to their rescue.

Together they hunt the skeletons, from the dungeons of Doomwatch Castle, through its mysterious corridors to the attic. To their horror they learn that the skeletons have been sent to the recycle bin, the place where the computer's deleted files live until they are destroyed.
Sidekick Zoe, who knows the future, predicts that we must wait until the bats have flown, the Zombies walked and the Jitterbugs jittered, before all will be well, but is she correct?
Sound effect From 'Doomwatch Castle'

Doomwatch Castle package is available in Merchandise:

Two hard copy scripts and free download scripts

Songs arranged for treble and changed voices

MP3 backing tracks for rehearsals and performances

Sound effects




Production notes




Licence for five performances




Doomwatch Castle has non-singing parts and optional dance routines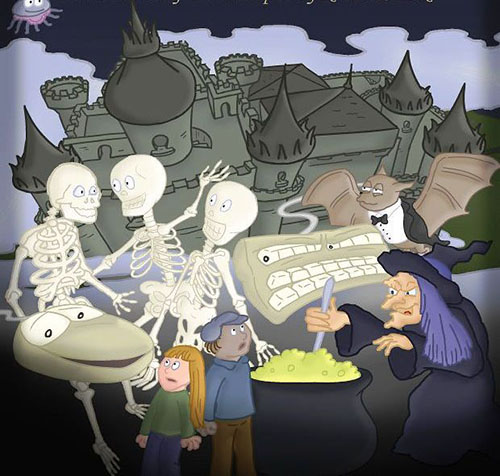 Suitable for secondary schools (UK)
Junior & Senior High Schools (USA)
Doomwatch Castle Characters

C
the Hardest Disk In Town
Mr Mouse
the computer mouse
Mr Keyboard
the computer keyboard
Thesaurus
a very knowledgeable book
Pete
the Programme Manager
Sidekick Zoe
a programme that can tell the future
Crone the witch
a cookies programme
Cadaver
a ghost back-up programme
Zevron
a bat file
Web
a spider web programme
Ms Dos
C's blonde girl friend
Ms Prompt
C's motor bike loving girl friend
Normal
a gossipy icon
Bold
a gossipy icon
Italic
a gossipy icon
Cursor
a useful line

Group Parts

Escape Committee
lovable, clueless scoundrels
Spell Check
American cheerleaders
Zombies
deleted files
Things That Go Bump In The Night
baby bats, spiders & ghosts

Visitors to Doomwatch Castle

Skel
a friendly skeleton

Lee
a friendly skeleton
Ton
a friendly skeleton
Emily
a birthday girl
George
Emily's brother